Need Food? We're Here To Help.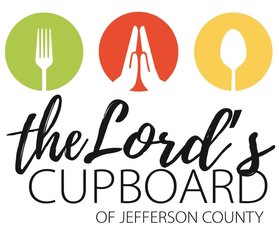 Jefferson County residents who meet
Income Guidelines
can receive bread and rolls once a week. Once every three months, families may also receive a full food order, which includes non-perishable foods, bakery and meat items, and supplies such as paper products, laundry soap, and shampoo.
Am I Eligible to Receive Assistance from The Lord's Cupboard of Jefferson County?
If you are a resident of Jefferson County, Iowa, and your income is below
the Emergency Food Assistance Program Income Guidelines
shown below, you are eligible to receive food assistance from The Cupboard. You are also automatically eligible if you are approved for SNAP or Free or Reduced-Price School Lunches.
Where and When Can I Receive Food Assistance From
The Lord's Cupboard?
​
Location:
303 N. 4th Street, Fairfield
(at the corner of 4th and Grimes)

Open Hours:
Monday through Friday, 1:00p.m. - 4:00p.m.
Last Full Food Order / New Client at 3:45p.m.
Bread and rolls served until 4:00p.m.
How Do I Receive Food Assistance From The Cupboard?
On your first visit, you will be asked to fill out a brief
application
asking for your name, address, and the names and birth dates of everyone living with you. You will also need to certify that your income is below the
guidelines
.
What Do I Need to Bring With Me?
1. Photo ID
2. Piece of mail dated in the last 90 days showing your name and address
3. Re-usable grocery bags, if you have them. Otherwise, we will supply you with boxes or bags.
4. A Full Food Order is a large amount; we recommend having a vehicle to carry your groceries home.
There are so many reasons why someone might need our help, and we are glad to be here when our neighbors need us the most. Clients are often referred to us by DHS, and others are self-referred. Our job is to make sure our clients live in Jefferson County, are within income guidelines, and that they feel comfortable when they come in.