| | |
| --- | --- |
| The Lord's Outreach Assisting Families (L.O.A.F.) Program | |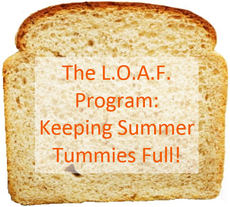 During summer break, our L.O.A.F. Program helps feed hungry school-children who depend on free lunches during the school year. Do you
need help
feeding the kids during summer break? If you qualify for The Lord's Cupboard, then you qualify for the L.O.A.F. Program. To find out if you qualify,
click here
!
Want to help? With
donations
from our community, The Lord's Cupboard is able to offer small Hy-Vee vouchers for specific kid-friendly items, as well as a few extra food items each week to help keep those summer tummies full!
​This is an expensive program, but one we believe in strongly. We have been setting back non-perishable foods for the program since December, but the Hy-Vee vouchers require good ol' cash. ​Please
donate
here
if you can! Most parents use the vouchers to buy milk, fresh fruit, and lunch items for the kiddos.
If donating food items is more your style, here are the food items we need to feed those hungry tummies this summer:
* canned meals (Spaghetti-Os, ravioli, etc)
* canned proteins (tuna, chicken, beef stew, Chunky Soups)
* boxed cereals (any size)
* mac and cheese (7.25 oz box)
* chicken noodle soup
* peanut butter (any size)